Construction of the second passenger terminal
The performance of this task will increase the passenger capacity of the Gdansk Airport by 100%, i.e. from 2.5 to 5 million passengers (PAX) per year. The investment will contribute to the enhancement of traffic safety and will improve the passenger services.
PRIORITY: Priority VI: Road and air TEN-T network
ACTIVITY: 6.3: DEVELOPMENT OF AIR TEN-T NETWORK
Gdansk Airport – construction of the second passenger terminal with infrastructure and construction and modernisation of airport and port infrastructure

The new terminal (as phase II of the investment project) will be constructed west of the existing terminal and parallel to the designed access road and the existing airstrip.
The building will be constructed as a hall with two functional zones, i.e. the airside facilities – the baggage sorting plant and the waiting room as well as the landside zones – a departures lounge, airline offices, catering and services.. The terminals will communicate via a connecting passage on the 1st floor level.
Its area will amount to 39,433.12 m2, including the usable area of 37,207.71 m2 and the cubature of 350,768.23 m3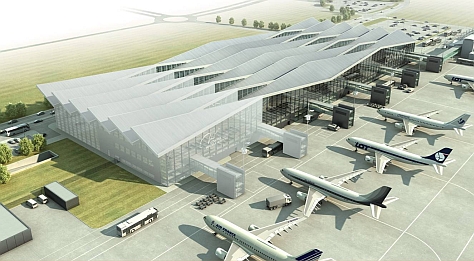 The functional system of the T2 Terminal features a modern solution that fulfils the requirements for international airports with regard to operational and functional standards. It takes account of the special requirements of passenger check-in in compliance with the Schengen agreement and applicable Polish regulations of the Civil Aviation Office in this regard. The Terminal has been designed so that it can be expanded, if necessary, with modules in  consecutive stages.
A mezzanine has been planned on the apron side for planes, i.e. an arrival way. Until the further development, the baggage reclaim hall will be located in the T1 Terminal. 4 external staircases have been designed at the front of the Terminal on the apron side. Air and smoke discharge systems will be integrated with the staircases.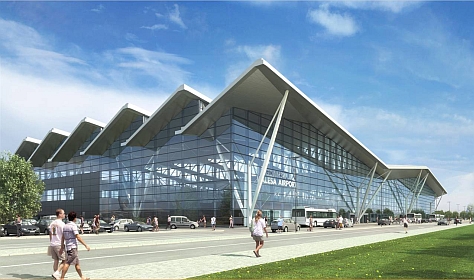 3 main entrances have been planned at the front. A direct exit to the apron located on the ground floor has been designed.
The building is to be made of reinforced concrete, featuring pillars, panels, wall-panels and steel. The building will be connected to the existing and designed municipal water supply, sewerage, power supply, heating and telecommunication systems, on terms specified by the administrators of such systems. The rainwater flowing from the terminal and parking area, before they are included into the airport rainwater drainage system, they shall be treated in the settlement tank and the separator of oil-derivatives. The building has been designed so as to enable its use by the disabled and parents with children. Special entrances to the building, doorknobs and handles at 70-120cm above the floor have been designed for these groups of users, as well as safe glass and toilets for the disabled, where baby changing units will be installed. Broad corridors without narrowing will provide free movement both to the disabled and the parents with children.
Project Gdansk Airport – construction of the second passenger terminal with infrastructure and construction and modernisation of airport and port infrastructure co-financed by the European Union from the Cohesion Fund within the frame of the Infrastructure and Environment Programme
www.mrr.gov.pl • www.mi.gov.pl • www.cupt.gov.pl