Apron construction
The apron will be located between the designed passenger terminal (T2), the designed taxiing way, the existing apron (APRON 2) and the PAŻP Radiolocation Centre with an access road.
PRIORITY: Priority VI: Road and air TEN-T network
ACTIVITY: 6.3: DEVELOPMENT OF AIR TEN-T NETWORK
Gdansk Airport – construction of the second passenger terminal with infrastructure and construction and modernisation of airport and port infrastructure

The apron is related to the construction of the T2 Terminal. It will enable the service of airplanes. The apron will be connected with the existing apron with a new taxiing way and the new Terminal 2. As a result, the Gdansk Airport will gain 9 new parking spaces for airplanes of the C code in a line in front of the passenger terminal and 6 spaces for airplanes of the C code in the second line.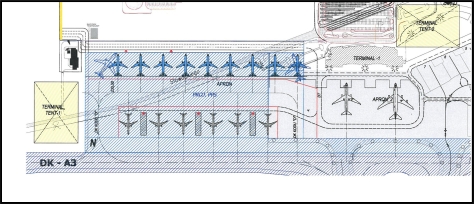 Moreover, an internal taxiing way will be created on the apron. The apron will be adapted to parking and taxiing of 'C' code planes and two 'D' code planes on designated spaces.

The estimated area of the apron is approximately 68,000 m2.

The total number of parking spaces amounts to 15. A part of the area is dedicated to roadways for technical vehicles and pavements for passengers and technical operators.The rainwater from the parking apron shall be included into the airport rainwater drainage system, equipped in facilities for wastewater treatment, in tanks biodegradation of surface de-icing agents, and in retention tanks to reduce the intensity of discharge to drainage ditches.
Primary cabling ducts have been designed under the apron for the power supply of floodlighting on posts, 16m and 20m high, and the primary and secondary cabling to supply axial lighting. Horizontal road sings will be provided on the apron surface.
Project Gdansk Airport – construction of the second passenger terminal with infrastructure and construction and modernisation of airport and port infrastructure co-financed by the European Union from the Cohesion Fund within the frame of the Infrastructure and Environment Programme
www.mrr.gov.pl • www.mi.gov.pl • www.cupt.gov.pl