Nasz serwis internetowy wykorzystuje pliki 'cookies'.
Oznacza to, że mogą one być zamieszczane w Państwa urządzeniu końcowym.
W każdej chwili mogą Państwo dokonać zmiany ustawień dotyczących 'cookies' w używanym oprogramowaniu.
×
Tourist Information Point
We kindly inform that there is a tourist Information point at Gdansk Lech Walesa Airport. Passengers may get there informations, flyers and maps.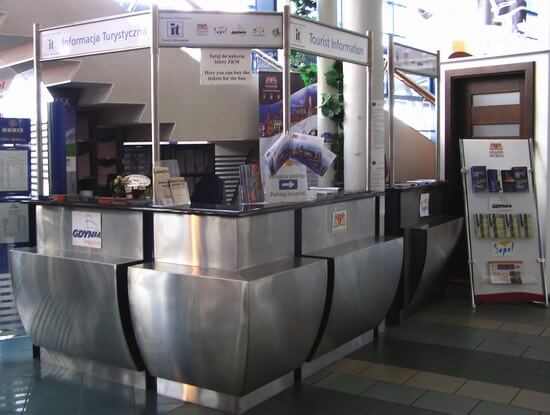 Gdańsk 
Gdańsk – this millennial city delights with its monuments, charming streets and rich entertainments . St Dominic's Fair with centuries' old tradition, knight tournaments, outdoor events and street theatre performances accompany the residents and delight tourists.

The impressive urban architecture recalls the epoch of the Hanseatic splendour. Every year the lovely narrow streets, the magnificent town house facades, the spectacular Royal Road connecting the Golden Gate with the Green Gate, the mediaeval Crane and the granaries attract countless tourists. Cafés situated in historic town houses as well as pubs in the original cellars invite you to stop and have rest over a pint of traditional Gdańsk beer which you can buy for about PLN 5.

Tourist must-see sites include:

Three Crosses Monument – a monument commemorating the casualties of December 1970. It is made up of three 42 metre high crosses decorated on their bottom part with relief carvings which depict the lives of shipyard workers. Erected at the corners of a triangle, the crosses have an irregular and cracked look.
St Mary's Church – well visible from both the sea and the land, it is one of the largest brick churches in Europe.
Royal Road – a magnificent promenade marked out by a complex of town houses which were once the property of the most opulent and influential burgess families.
Main Borough Town Hall – once the seat of the city authorities, now one of the branches of the Museum of the History of Gdańsk.
Neptun – a fountain situated in the via regia, depicting the god Neptune. The figure of the god of the sea was cast in bronze by Piotr Hussen in 1615.
Arthur's Court – one of the Court's most important exhibits is the largest European tiled stove which is 10.64 metres high and made of 520 richly adorned tiles.
Oliva Cathedral – built in the 13th century as a church of the Cistercian order. Today, you can come here to listen to the baroque pipe organs. The picturesque Oliva Park is just around the corner.
Westerplatte – the place where the Second World War started. Today, it is a cemetery of the soldiers who fell in 1939.

www.gdansk.pl
www.trojmiasto.pl
www.gdansk.naszemiasto.pl
www.shopandsee.eu
www.poznaj3miasto.pl

 
Sopot
Sopot – the only one of its kind, this seaside resort sports a marvellous promenade closed to vehicle traffic which leads right to the famous wooden pier.

Being the longest wooden construction of its kind in Europe, the pier is an excellent place for walks or relaxation. Lovely sandy beaches and the lapping of the waves give ultimate pleasure. Monte Cassino promenade swarms with people both during the day and at night. Pubs, cafés and tearooms tempt with beautiful interior decor and low prices.

Tourist must-see sites include:

Pier – the longest wooden pier in Europe.
Promenade – Bohaterów Monte Cassino Street.
Forest Opera – one of the most spectacular opera venues in Europe, characterised by excellent acoustics. This forest-surrounded stage is a venue of not only annual festivals, but also countless rock, blues and classical music concerts.
Horse racing course – located in the heart of the health resort of Sopot, it is classified as a landscape park. Founded over a century ago on 33 hectares of grassy land, it has been a venue of international equestrian events on a European scale.

www.sopot.pl/eGmina/pl
www.trojmiasto.pl
www.shopandsee.eu
www.poznaj3miasto.pl
 

 
Gdynia
Gdynia – characterised by modern architectural design, this seaside city is attractive for tourism and commerce. Gdynia enjoys several spectacular beauty spots, walking trails and cycling paths that stretch along the seashore, as well as marinas and yacht clubs.

Gdynia is the only city in Poland, and one of few cities in Europe, with such a long and easily accessible seashore, which is 12.5 kilometres long (exclusive of the port areas). The central point where the majority of tourist haunts and entertainment opportunities are concentrated is Kościuszki Square. It is here that you can relax and have cheap fresh fried fish al fresco.

Tourist must-see sites include:

ORP "Błyskawica" – a museum on board a ship – a veteran destroyer of the Polish Navy.
Dar Pomorza – a training threemaster, property of the Maritime School, which is open for sightseeing.
Pleasure boats moored along the wharf.
Oceanographic Museum and Marine Aquarium – the only such museum in the Tri-city, which exhibits marine fauna and flora.
Kamienna Góra – a beauty spot at a height of 54 metres which offers the most extensive view of the port and the city.

www.gdynia.pl
www.trojmiasto.pl
www.gdynia.naszemiasto.pl
www.shopandsee.eu
www.poznaj3miasto.pl
 
źródło: www.trojmiasto.pl/galeria